(8 June 2021, Hong Kong) On World Oceans Day, OmniFoods, a pioneer in plant-based food innovation, announces its latest game-changer: OmniSeafood. Following the worldwide success of its OmniPork series, including OmniPork Mince, OmniPork Strip and OmniPork Luncheon since its debut in 2018, OmniFoods never ceases to innovate and expand its product pipeline to bring revolutionary novelty and excitement to plant-based eating. The new protein line reinforces OmniFoods' commitment to promote a sustainable ecosystem that treats the planet, animals and us, right.
Unlike poultry, pork and beef, fish comprises countless edible species, each with different textures, tastes and applications. This ground-breaking range of products includes Omni Classic Fillet, Omni Golden Fillet, and Omni Ocean Burger, in original, battered or breaded fish burger varieties, along with OmniTuna and the forthcoming OmniSalmon. It presents a brand-new experience of high-quality plant-based fish with high culinary versatility.
Global concerns over ocean and seafood consumption
A survey conducted by an international research and data analytics group YouGov and commissioned by OmniFoods revealed that people worldwide have deep concerns about the oceans and seafood consumption¹. Among all factors, plastic waste (72%) ranked the top amongst ocean and seafood consumption issues across most regions. The majority of people worry about overfishing or fish extinction (67%) and seafood safety (61%), while animal cruelty in the farm fishing industry also calls for considerable attention (52%). One of the most feasible and effective ways to protect the ocean is to change eating habits.
The surging demand for fish and fish products
While the livestock industry is one of the devastating threats to our planet, the damage of aquaculture malpractice should not be underestimated. Over the past decades, the drastic decline in fish populations is due to the growing human appetite for fish and fish products around the globe.
According to the United Nations' Food and Agriculture Organisation (FAO)², world capture fisheries and aquaculture has recorded a 9-fold rise in the past 70 years and global fish production is estimated to have reached about 179 million tonnes in 2018, with a total first sale value estimated at more than USD 400 billion. Asia has dominated global fish consumption, accounting for 73% of all fish consumption in 2018, 14 times and 6 times higher than American and European consumption respectively. In 2017, Hong Kong is the second highest in fish and seafood consumption per capita among all Asian regions with 70.75kg³, only second to Maldives' 90.41kg, much higher than the annual global average of 20.3kg⁴. The skyrocketing demand for fish has led to severe overfishing, which takes a tremendous toll on the ocean ecosystem.
On the other hand, a report highlighting the threats of freshwater ecosystem and fish⁵ by 16 global conservation groups including WWF, Global Wildlife Conservation and The Nature Conservancy, has warned of a catastrophic decline in freshwater fishes during the last 50 years, with 80 species declared extinct, and nearly a third threatened by extinction⁶.
Kinder For All – preventing deaths in nets
Bottom trawling, a fishing practice involving towing large, weighted nets across the sea floor, is destructive to the ocean ecosystem. Apart from destroying the deep sea coral forest and the natural habitat of aqua animals, it also has a huge bycatch impact since its indiscriminate catch includes the non-target species.
It is estimated that there are over 300,000 cetacean deaths each year due to entanglement in fishing gear⁷. Apart from that, the targeted species but undersized that are thus discarded also fall into this category. On average 27 millions of fishes, or approximately 27% of global fishery catch, are discarded annually by commercial fisheries⁸.
Seaspiracy, a Netflix documentary released earlier this year, has become the talk of the globe. It has awakened global awareness regarding the impact of commercial fishing. Consuming less or no fish is a direct and effective way to alleviate pressures on overexploited fisheries.
Health hazards of contaminated fish consumption
Recent studies reveal that heavy metals and micro-plastics are found in the ocean and fish. Nearly all fish contain traces of heavy metals such as mercury, which is well-known for its hazardous effect on the development of fetuses and children. Among all, predatory deep-ocean fish and large fish, such as tuna, king mackerel and salmon, tend to contain higher levels of mercury because of bioaccumulation.
Meanwhile, according to United Nations, there are as many as 51 trillion microplastic particles in our sea⁹. Microplastics pose alarming threats to both fish and humans. The majority of plastic pollution in the ocean is caused by dumped fishing gear. People become exposed to the toxins and microplastics through ingestion of contaminated fish, leading to emerging concerns on seafood consumption.
A safe and mercury-free alternative, plant-based fish is a source of protein with a host of environmental benefits. It brings relief to fragile marine ecosystems and reduces the impact of discarded fishing gear on ocean plastic pollution.
Create Omni Impact from Land to Sea – debuting OmniSeafood
While fish is an essential protein source for 3.3 billion people and provides 17% of the world's animal protein, plant-based seafood currently is less than 1% of the plant-based protein market in the United States¹⁰. Following the successful launches of the OmniPork series which has impressed 20 markets and is now widely available in through 40,000 points of sale, OmniFoods excites the global palates with innovative and groundbreaking fish products – Omni Classic Fillet, Omni Golden Fillet, Omni Ocean Burger, OmniTuna and soon-to-be-launched OmniSalmon, acting as perfect alternatives that share the same look and feel with their traditional counterpart.
Crafted with a proprietary blend of plant-based protein from non-GMO soy, pea and rice, Omni Classic Fillet, Omni Golden Fillet and Omni Ocean Burger recreate plant-based versions of different preparations of mild white fishes in plant-based version. Natural and clean, they bring a slightly sweet note just like real fish. Apart from the trio, OmniTuna is the first ambient product of OmniFoods. As a safe alternative to the world's most widely consumed fish, OmniTuna is mercury-free, in the meantime, mimicking the taste and texture of real tuna. Another revolutionary innovation in the pipeline, OmniSalmon, recreates another best-loved fish worldwide. All certified vegan and Buddhist-friendly, these fish alternatives are also protein sources. They are also free from trans-fat and cholesterol, contain no hormones, artificial colours, MSGs, added antibiotics or preservatives.
OmniSeafood contains omega-3 ALA derived from non-GMO expeller-pressed canola oil, ranging from 302 to 450mg*, an essential fatty acid that the human body cannot make on its own which must be taken through diet. The Adequate Intakes (AIs) of omega-3 ALA for adult males and females is 1.6g and 1.1g respectively¹¹. It helps reduce the risk of cardiovascular disease.
Mr David Yeung, founder and CEO of Green Monday Group and OmniFoods, said, "We cannot tackle climate change without taking care of the ocean. Overfishing and bottom trawling are the most destructive actions that devastate our marine ecosystems. That explains why since the breakthrough launch of OmniPork in 2018, we started setting our focus on seafood. After years of R&D and dedication, we are thrilled to officially unveil this revolutionary OmniSeafood series on this special occasion of World Oceans Day. Plant-based fish and chips, filet-no-fish burger or Sichuan spicy boiled fish all become a reality. This breakthrough guarantees not only to wow our taste buds, but also to awaken our consciousness towards the ocean and the planet. With today's milestone launch of OmniSeafood, we believe it is a big leap forward to a real sea change."
In its original form – unbattered and unbreaded – Omni Classic Fillet is the world's first innovative plain plant-based fish fillet. A source of protein with 11.1g*, it is low in saturated fat and a source of fiber. The absence of batter and breadcrumbs also makes Omni Classic Fillet a much lower calorie alternative to common plant-based fish products available in the market. It contains 30% less calories when compared with similar products of major leading brands. It recreates succulent and flaky texture with the briny hit of ocean, making it an ideal substitute for fish in a wide range of traditional and iconic fish dishes across Asian cuisine in particular, such as homey dish fish with black bean sauce, Sichuan spicy fish, Japanese miso-glazed fish, just to name a few. It can be easily pan-fried, poached, grilled and deep-fried, incorporated into a variety of dishes and to maximise culinary applications.
| | |
| --- | --- |
| | |
Omni Golden Fillet contains 349mg* omega-3 ALA, presenting a healthier rendition of the classic seaside dish. Convenient and highly versatile, this crispy fish fillet is ready for consumption in just 3-5 minutes. It is golden-crusted and succulent inside, and retains the flakiness and tenderness of real fish, carrying an ineffable ocean flavour. It goes best with various kinds of dipping sauces, making it a quick and scrumptious treat enjoyed by both adults and kids.
"Fillet-o-fish" has always been a standard item on fast food menus, while Omni Ocean Burger will be a new favourite comfort food with a healthy and plant-based twist. The recognisably square shape and flaky "fish" patty at once impresses consumers with the resemblance to a familiar favourite, yet it is plant-based and cruelty-free. Containing 450mg* of omega-3 ALA, Omni Ocean Burger looks, cooks and tastes like a real deep-fried fish fillet portion, making it the essence of "filet-no-fish" with the same satisfying texture and deliciousness.
| | |
| --- | --- |
| | |
Made from a unique blend of non-GMO soy, OmniTuna is high in protein (12g*), low in saturated fat and a source of fiber, and more importantly, mercury-free. Coming in familiar and convenient cans, OmniTuna soaking in oil recreates the chunky texture of real canned tuna. Containing 130mg* of omega-3 DHA from algae oil** which is a comparable DHA content to light tuna canned in oil¹², it leaves no oily residue in your mouth and brings you the same savoury gastronomic pleasure. OmniTuna is perfect in sandwiches, salad, wraps or on crackers, making it a fuss-free, palatable tuna substitute.
Whilst wild fish populations are dropping, people resort to fish farming, especially for the most consumed fish types such as salmon. The farmed salmon industry has grown substantially in the past 40 years, and today approximately 60% of salmon produced worldwide is farmed¹³. The farmed species is vulnerable to epizootics, bacterial infections and parasites. OmniFoods is dedicated to offering a sustainable salmon alternative – OmniSalmon – which is made from plants and eliminates health hazards, environmental impacts, and can be scaled to meet the demand.
*per 100g
**only available in the upcoming retail product
Where to try OmniSeafood
Cordis Hong Kong and Ming Court Wanchai under the Great Eagle Group, a longtime strategic partner of Green Monday Group and OmniFoods sharing the same vision to promote a green and sustainable future, will launch an innovative dish collection created with OmniSeafood series in July.
Helmed by Culinary Director Tsang Chiu King, Ming Court Wanchai will present a series of plant-based fish dishes incorporating OmniSeafood series into traditional Chinese fish dishes. The innovative delicacies include "Sautéed Omni Classic Fillet, Kung Po style", "Fried Omni Classic Fillet with dry chilli, Sichuan style", "Braised Omni Classic Fillet with spicy wine sauce" and "Sautéed Omni Classic Fillet with pumpkin in black truffle paste" which are made from Omni Classic Fillet, while "Steamed Omni Golden Fillet with preserved vegetables in preserved bean curd sauce" is an Omni Golden Fillet creation.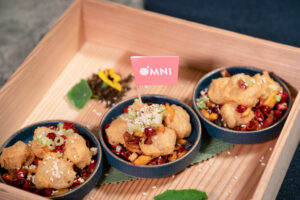 Fried Omni Classic Fillet with dry chilli, Sichuan style
Among the first to cook OmniSeafood series, Chef Tsang adds, "In traditional Chinese cuisine, white-flesh fish which carries the delicate ocean flavour is always a feature in seafood dishes. I am particularly impressed by Omni Classic Fillet. Its high versatility and indistinguishable mouthfeel allows me to create a wide variety of dishes, especially the Chinese traditional dishes featuring white-flesh fish. It recreates the taste of the sea, becoming an ideal plant-based alternative to fish."
| | |
| --- | --- |
| New Fish & Chips | Ocean Burger |
Cordis Hong Kong will serve up newly-designed dishes across three of its outlets. The one-Michelin-starred Ming Court at Cordis Hong Kong will launch "Omni Classic Fillet, Fresh Peppercorn, Bell Pepper, Basil, Dried Shallot, Black Pepper, Sautéed", presenting the oriental plant-based flavour with a decent flair. In the meantime, another outlet The Garage Bar will introduce healthy yet tangy dishes, including "New Fish & Chips" and "Ocean Burger", featuring Omni Golden Fillet and Omni Golden Burger respectively, while Alibi – Wine Dine Be Social created "OmniTuna Taco, Spring Onion and Coriander Salsa, Avocado Puree, Shishito Pepper, Lime Wedge" with OmniTuna.
| | |
| --- | --- |
| Spicy Storm OmniFillet | Lemon Light OmniFillet |
Starting from 23 June, Green Common will roll out new menus with an ocean theme, introducing a series of exclusive dishes made with the OmniSeafood series. Tempting appetiser OmniTuna Tartare and two piquant mains Spicy Storm OmniFillet (Omni Fish Fried with Crispy Garlic and Chili – Omni Classic Fillet) and Lemon Light OmniFillet (Omni Golden Fish in Lemon Sauce) will be exclusively available in Green Common Sheung Wan Nan Fung Place Branch.
Download high-res photos via: bit.ly/OMNI2021_presskit