Our People
Learn more about the people behind Green Monday
Management Team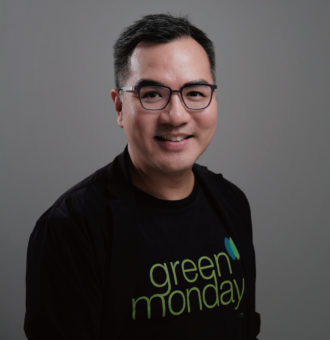 DAVID YEUNG
Co-founder and CEO
David Yeung has pioneered a one-of-a-kind integrated platform that engages and empowers millions of people, along with public and private sectors, towards green awareness, action and economy. His work earned him the award of "EY Entrepreneur of the Year Award (HK/Macau)" by Ernst & Young, "Social Entrepreneur of the Year" by the World Economic Forum and Schwab Foundation. Other awards and acolades include "Roddenberry Prize" and "Ten Outstanding Young Persons Hong Kong". As an iconic environmentalist and entrepreneur, David has spoken at the World Economic Forum, Milken Institute Summit, TEDx, as well as financial and academic institutions such as Credit Suisse, UBS and UCLA. He is a graduate of Columbia University, an Ashoka Fellow and the author of a number of best-selling books on Zen wisdom and mindfulness.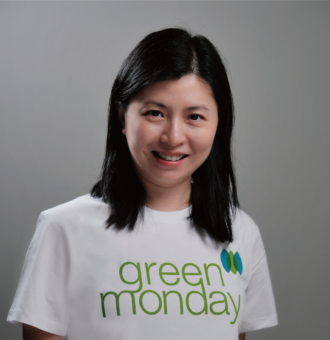 JENNY NG
Co-founder and COO
As an entrepreneur, Jenny Ng has a strong personal commitment to contribute to a more sustainable world. She has many years of brand consultancy and advertising experience, spanning from consumer marketing industries including FMCG, F&B and children products to property and technology sector. She has worked with numerous corporate clients such as Cathay Pacific, Johnson & Johnson (Asia region) and Unilever Asia, etc.
Ms. Ng's expertise lies in her strategic planning skills and insight in business process management. She has managed and sold a hard-goods buying office based in Hong Kong to Lidl Germany, one of the largest retailers globally. Ms. Ng believes in social innovation and has joined Green Monday with the urge to make social changes globally. She has been selected by Green Queen, a renowned eco-lifestyle media , as a female green warrior fighting for a better Hong Kong and a better world.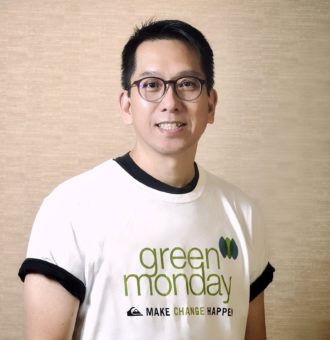 HUNG LAW
Executive Vice President
Before joining Green Monday, Hung has successfully led numerous international corporations to expand and penetrate new markets, particularly in the Greater China region, the Middle East and South East Asia. Over the past 20+ years, apart from working in PricewaterhouseCoopers, he served in senior management roles for multinational corporations heading retail operations, brand management and business development for international franchise in mega fashion and FMCG chains including IT, Quiksilver, Oasis (UK Mosac Group), Nike and Adidas. Hung is now an evangelist of the plant-based movement and has been assisting in the growth and development of the Green Monday group with his business management expertise. Hung graduated from Monash University Australia and he is a member of CPA Australia and HKICPA.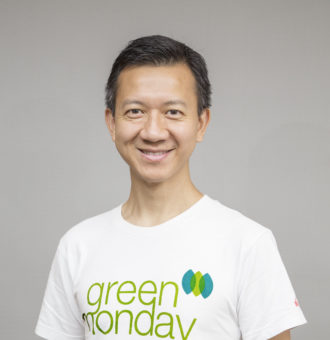 FRANCIS NGAI
Co-Founder
Francis Ngai is the Founder and CEO of Social Ventures Hong Kong, the city's first venture philanthropic organisation dedicated to incubating and investing in social innovation projects. Portfolio social enterprises include Diamond Cab, Green Monday, LightBe affordable housing, RunOurCity, CookConnect and Playtao Education. Francis is a board member of the Asia Venture Philanthropy Network and was selected by The Purpose Economy as "Asia 100 Pioneers," as well as "Ten Outstanding Young Persons Hong Kong 2011" and "Young Global Leader of World Economic Forum 2012".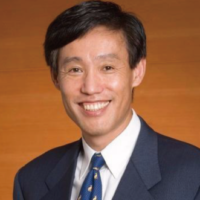 CHANG SUN
Mr. Sun is TPG's Managing Partner for China. Prior to joining TPG, he was chairman and founder of Black Soil Group, an agriculture investment holding company. From 1995 to 2015, Mr. Sun was a partner at Warburg Pincus Asia and served as chairman of Asia Pacific for the firm and a member of the firm's Executive Management Group. Mr. Sun has also worked as an Executive Director in the Investment Banking Division and the Principal Investment Area of Goldman Sachs (Asia) L.L.C., at Lepercq, de Neuflize & Co as an investment banking associate, and at the United Nations as a translator.  Mr. Sun holds a Bachelor of Arts degree from the Beijing Foreign Studies University and a joint degree of MA/MBA from the Joseph Lauder Institute of International Management and the Wharton School of the University of Pennsylvania. Mr. Sun is the founder and current honorary Chairman of the China Venture Capital Association (CVCA) and the founder and current Executive Vice Chairman the China Real Estate Developers and Investors' Association (CREDIA). He is also a member of the Board of Governors of the Lauder Institute at the Wharton School, and a board member of the China Entrepreneurs Club (CEC).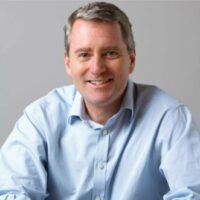 JOHN WOOD
John Wood is the Hong Kong-based Founder of Room to Read, the world's most impactful NGO for developing world education. The organization has raised US$650 million and brought education programs to over 23 million children in 18 low-income countries. Prior to Room to Read, he held numerous senior roles at Microsoft, including Director of Marketing for the Asia Pacific region and Director of Business Development for the Greater China region.  Mr. Wood is currently the Asia Partner for Concentric Equity, a US$2 billion Chicago-based family office.  He serves on the Boards of Singapore-based technology private equity firm Asia Partners and is a founding member of the Advisory Board of XA – a group of over 100 "big tech" alumni who have made over 30 active investments in ASEAN-focused technology start-ups.  He was a four-term Advisory Board member of the Clinton Global Initiative and was chosen for the inaugural class of Young Global Leaders by the World Economic Forum. Mr. Wood graduated with highest honours from the University of Colorado, did his MBA at the Kellogg School of Northwestern University and has been awarded honorary PhD's by four universities, including McGill and the University of San Francisco.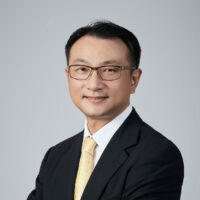 JOHN NG
Mr. Ng is the Chief Financial Officer of the Lee Kum Kee Group, a leading consumer products enterprise founded in 1888. Prior to joining the Lee Kum Kee Group, he was the Managing Partner of the Asia investment arm of a substantial Swiss family office. During his thirteen years there, he was responsible for the firm's Asia investments in private equity, public equities, bonds and properties. Mr. Ng began his career in the financial advisory team of PwC New York. He later joined Lehman Brothers' investment banking team in Hong Kong. Between 2000 and 2006, he was a senior corporate finance executive at Hutchison Port Holdings and tasked with setting up its strategic planning department. He holds B.S. Business Administration and Master of Accounting degree from the University of North Carolina, and serves on the Chancellor's Global Leadership Council. He is a graduate of Harvard Business School's Executive Education program (PLD). Mr. Ng has been a supporter of Green Monday since inception. He has served in an advisory capacity to various parts of Green Monday since 2016.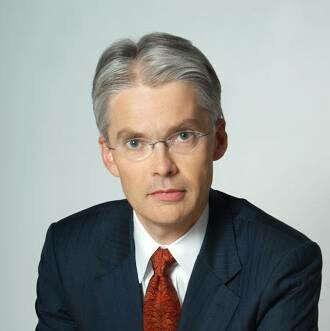 GORDON ORR
GM Senior Advisor
Gordon is a non-executive board member of Meituan-Dianping, Swire Pacific, Lenovo, EQT and the China Britain Business Council. He is a senior advisor to McKinsey on China related topics and was responsible for establishing McKinsey's China practice, with the opening of offices in Shanghai and Beijing in 1993 and 1995, respectively. From 1999 to 2004, he served as managing director of McKinsey Greater China and subsequently led McKinsey Asia. He has lived in China for two decades.