About OmniFoods
OmniPork is launched by foodtech company OmniFoods (previously known as Right Treat). An established team of food scientist in Canada spent 2 years conducting comprehensive research to create this nutritionally superior alternative comprised of a proprietary blend of plant-based protein made of peas, non-GMO soy, shiitake mushrooms and rice. OMNIPORK contains 0mg cholesterol and it is free from hormones, antibiotics or cruelty, and 86% lower in saturated fat and 66% lower in calories than real pork. Additionally, it offers much higher fiber, 2.6 times more calcium and 127% higher in iron. The climate and animal-friendly innovation was recognised by PETA Asia and helped its parent company Green Monday earn the prestigous title of "Company of the Year 2019".
Product Line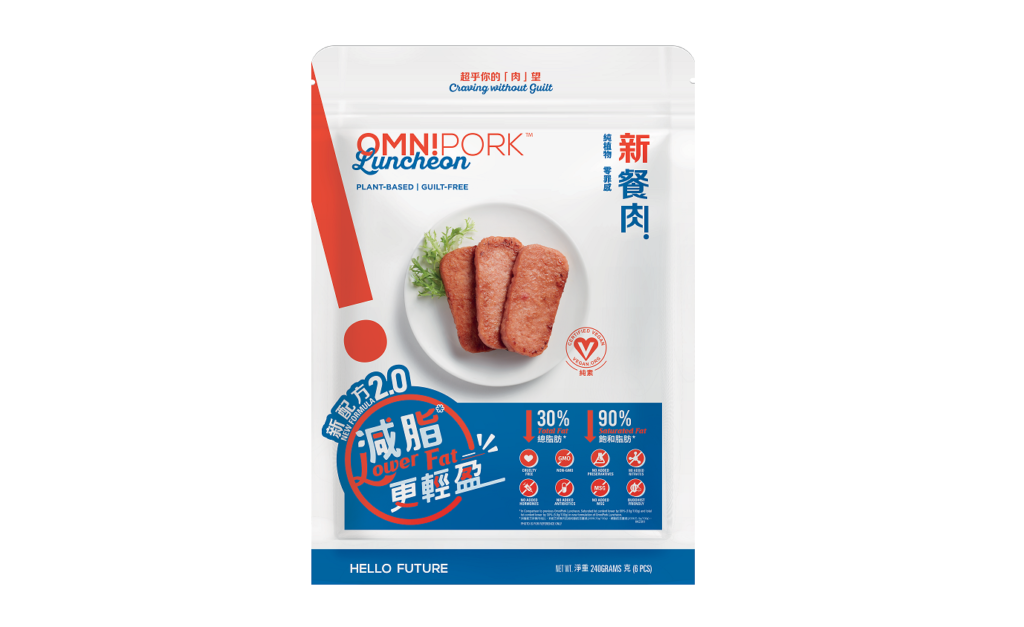 OMNI Luncheon 2.0
OMNI Luncheon is made from non-GMO soy, wheat, and beet (which gives its natural red colour). Compared to the original OMNI Luncheon, the new 2.0 formula replaces coconut oil with canola oil, contains 90% less saturated fat, and is 30% lower in total fat*. With the adjusted recipe, the calories and sodium content are also reduced. In addition, OMNI Luncheon is high in protein (12.1g/100g) and does not contain any carcinogenic nitrates, hormones, antibiotics, or MSG. It is also Buddhist friendly and cruelty-free.
*Compared with the previous formula, the new formula of OMNI Luncheon 2.0 has 90% less saturated fat content (10g/100g) and 30% less total fat content (5.9g/100g)
0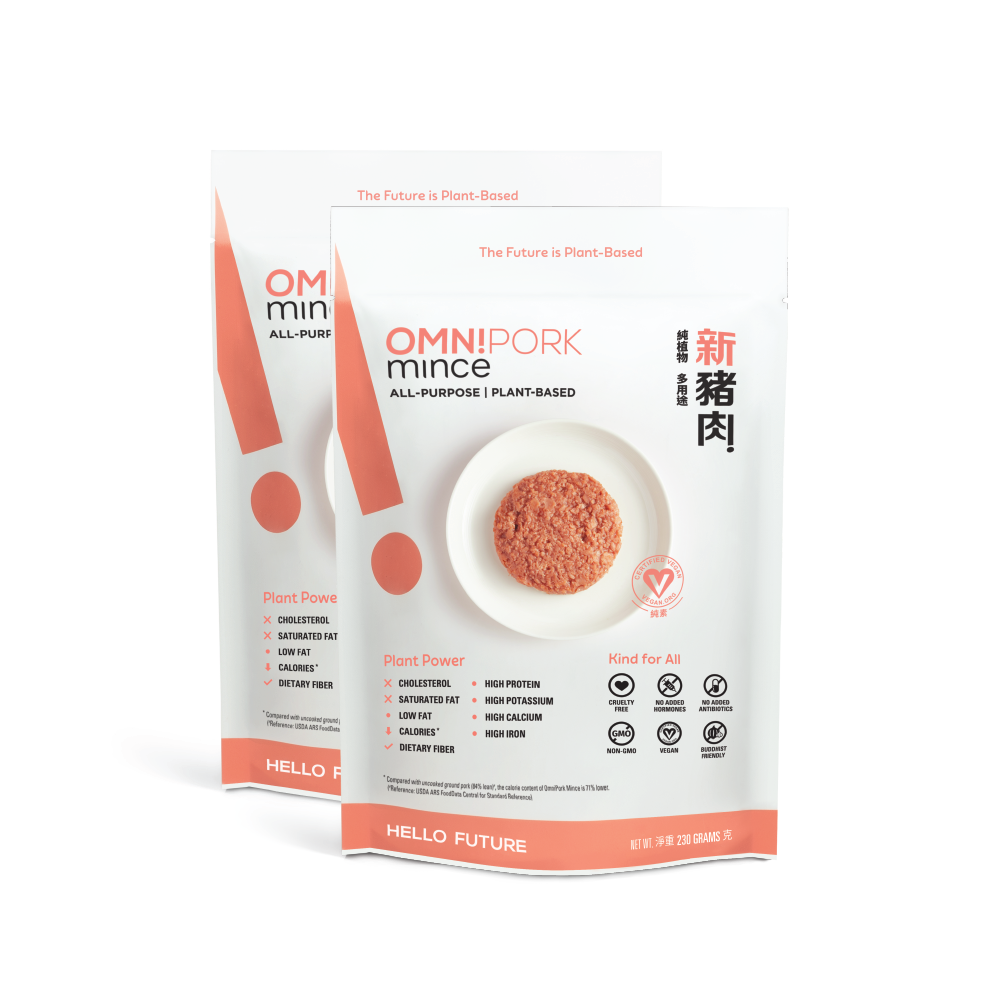 OmniPork
Cruelty-free, vegan, Buddhist-friendly and non-GMO, Omnipork® is comprised of a proprietary blend of plant-based protein from pea, non-GMO soy, shiitake mushroom and rice for complete protein. It is also free from cholesterol, added hormones or antibiotics.
0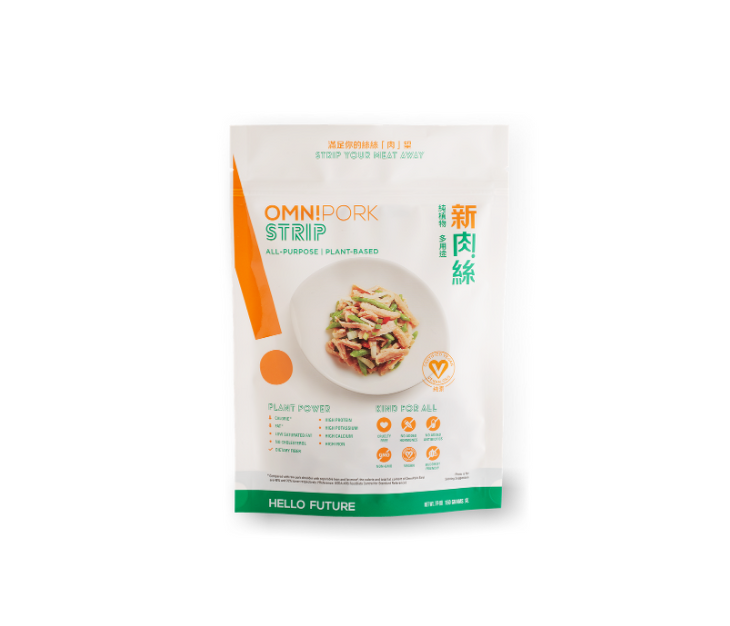 OmniPork Strip
OmniPork Strip is high in protein (18.6g of protein per 100g). It is low in saturated fats, free from cholesterol and provides a source of dietary fiber, potassium, calcium and iron. Compared with raw pork shoulder, OmniPork Strip has far lower calories and total fat content. The product is suitable for almost every dish.
0
Development
Since its launch in April 2018, OmniPork has received extensive coverage from international media. OmniPork is widely used in numerous internationally acclaimed restaurants serving specific OmniPork menus, including Tacobell in Mainland China, the largest QSR in Taiwan – Bafang Yunji, Sizzler in Thailand, Prive in Singapore, Four Seasons Hong Kong, JW Marriott Hotel Hong Kong and King of Sheng Jian in Hong Kong. The brand new launch of OmniEat in 2020 is meant to cater to city dwellers who lead a fast-paced life. It uses ultra-low temperature "Flash Freezing" technology to preserve the natural flavours and textures of the foods while minimizing nutrients loss. It only takes a few minutes to reheat this nutritious and scrumptious meal.
OmniEat Flash Frozen Meals and OmniEat Dim Sum have been available in supermarkets since February 2020.
In an effort to further support the company's future branding and development strategies, Right Treat, the food research company of OmniPork, officially announced its change of name to OmniFoods on 18 May, 2020. On the same day, two long-awaited products – the OmniPork Luncheon and the OmniPork Strip were announced to the support of the masses in Asia and beyond.