(22 December 2021, Hong Kong) With the Year of the Tiger approaching, Green Common is as always welcoming Chinese New Year with a kind spirit and innovative varieties, embracing the new year with plant-based and cruelty-free festive treats and new dishes.
The made-in-HK vegan Chinese New Year cake series' beloved flavour Pumpkin Rice Cake with Red Quinoa, Turmeric & Oatmilk, showcasing the potential of plant-based milk. This year it proudly returns with a new low-fat formula. Curated by the UK brand Minor Figures' Semi Oat M*lk, the distinctive CNY cake brings an even healthier rendition to the traditional treat. Its reappearance alongside OmniPork Vegan XO Sauce Red Quinoa Turnip Cake becomes the stars of the show. Both flavours are made with plant-based ingredients and superfoods, including OmniPork Mince, red quinoa and turmeric, cruelty-free and Buddhist-friendly, and free from cholesterol, artificial colouring and MSG. Assorted Vegan CNY Cakes Set is also available on shelves to sate both savoury and sweet tooth. Green Common also launches CNY Snack Gift Set which includes two flavours of Skinny Thins. Gathering its own nibbles and munchies to present guilt-free delights, the gift sets are hearty blessings to you and your beloved ones.
A Green Common celebration with shabu shabu, vegan poon choi and newly-launched dishes
Refreshing ideas are coming up to wow the guests in Chinese New Year. Green Common is launching Japanese-style hotpot and stew, exclusively available at Green Common Nexxus and Tsuen Wan store respectively. Served as dinner during weekdays and all day during weekends, Deluxe Nourishing Shabu Shabu at Green Common Nexxus offers two choices of soup base – Almond Milk Soup made by plant-based Chinese herbal medicines, coastal glehnia root, pilose asiabell root, fragrant solomonseal rhizome and apricot kernels, and tantalising Tom Yum Soup. A wide range of plant-based ingredients are filled to the brim, featuring premium fungus such as cauliflower fungu, maitake, fresh golden tremell, daikoku shimeji and termite mushroom, and plant-based meat such as OmniPork Tofu Meatballs, Omni Classic Fillet and OmniPork Luncheon, together with fresh and nutritious vegetables. Kindhearted Shabu Shabu served at Green Common Tsuen Wan store offers different combinations of food ingredients, with options of soup base of Tom Yum Soup and light & flavoursome Oat Milk Soup.
Wholesome and satisfying, the hearty shabu shabu hotpots indulge every guest with healthy delights to kick start the new year. Both are available starting in mid-January 2022.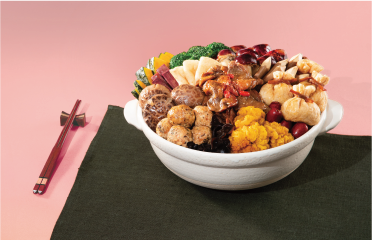 Poon choi is always one of the stars on the dining table during festive gatherings. Green Common's Omni Kinder Festive Poon Choi launched earlier during winter solstice has been all the rage, and will keep warming bodies and hearts in the coming Chinese New Year. With 20 nutritious and delicate ingredients, the Buddhist-friendly and plant-based Omni Kinder Festive Poon Choi introduces the chewy and flavoursome Mochi Kinchaku with OmniPork, collagen-rich golden tremell and purple sweet potato, together with OmniPork Tofu Meatballs, Unlimeat plant based beef slices with sesame, daikoku shimeji, ferule mushroom, termite mushroom and more. Green Common's Omni Kinder Festive Poon Choi (for 4-6 persons) will be available, kicking out festive overindulgence with healthy and light plant-based delicacy. Poon choi is now available (CNY promotional price: HKD 638; Original price: HKD 798).
Besides, Green Common is serving up the newly-launched dishes during Chinese New Year. An innovative collection is available at Green Common selected stores, including OmniCrab Maw Soup, Sand Ginger Mushroom Fen Pi and Unlimeat Beef & Turnip Stew, while OmniPork Stuffed Turnip with Morels & Black Truffle Sauce and HK-style Crunchy Squid are exclusively served at Green Common Nexxus. Curated with all plant-based ingredients, the new range of dishes are the kinder options for kinder spirits. All new dishes will launch progressively at selected Green Common stores, you can refer to Green Common website for details.
Vegan Chinese New Year Cakes and Festive Gift Sets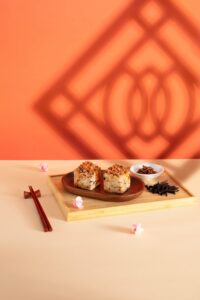 OmniPork Vegan XO Sauce Red Quinoa
Turnip Cake(600g)

Promotional price: HKD 138
(Original price: HKD 158)

Replacing Chinese traditional cured meat with
zero-cholesterolOmniPork Mince, this festive
treat is created with a generous mix ofradishand
red quinoa, presenting a light yet nutritionpacked
alternative with Cantonese fare. Featuring
vegan XO sauce made with shiitake mushroom,
lion's mane mushroom, chili and natural spices,
thisOmniPork Vegan XO Sauce Red Quinoa
Turnip Cakepacks an exceptional punch.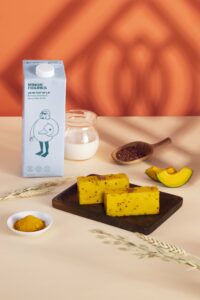 Pumpkin Rice Cake with Red Quinoa, Turmeric & Oatmilk (570g)

Promotional price: HKD 128
(Original price: HKD 138)

The well-received Pumpkin Rice Cake with Red
Quinoa, Turmeric & Oatmilk is a time-honoured
tradition with a modern and vegan twist. It is crafted
with superfoods including antioxidant-rich pumpkin
and turmeric which boost the immune system, while
turmeric has strong anti-inflammatory effect as well.
Red quinoa with high dietary fiber content and low
glycemic index enriches the texture of glutinous rice
cake.
Coconut milk is commonly used in traditional festive
cakes for its flavour. Replacing coconut milk with
Minor Figures' Semi Oat M*lk, Pumpkin Rice Cake
is low fat and free of cholesterol, containing higher
calcium content and low saturated fat. Oat milk perks
up the taste of rice cake with its natural sweetness,
creating a second-to-none healthy delicacy which
satisfies the sweet cravings this lunar new year.
Vegan CNY Cake Gift Set

Pumpkin Rice Cake with Red Quinoa, Turmeric & Oatmilk x1
OmniPork Vegan XO Sauce Red Quinoa Turnip Cake x1
Promotional Price: HKD 238 (Original price: HKD 296)
Find Vegan CNY Cakes in all Green Common stores and Green Common eShop
Vegan CNY Cake (Voucher) Pre-sale: starting from late December 2021
Vegan CNY Cake available in stock and redemption period: 20 January to 31 January 2022
(Redemption at only Green Common Nexxus, Alexandra House, Harbour City, Tseung Kwan O, Tsuen
Wan and Kwun Tong store)
Order and inquire at +852 6450 7605 (WhatsApp only)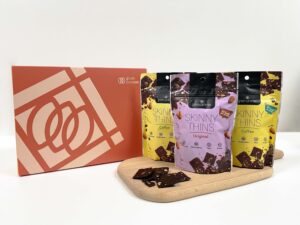 Green Common CNY Snack Gift Set (HKD 78)
Content: Skinny Thins 2 flavours, 2 packs of each
Download high-res photos via: bit.ly/gc_cny2022
– END –